Buc-ee's Richmond now open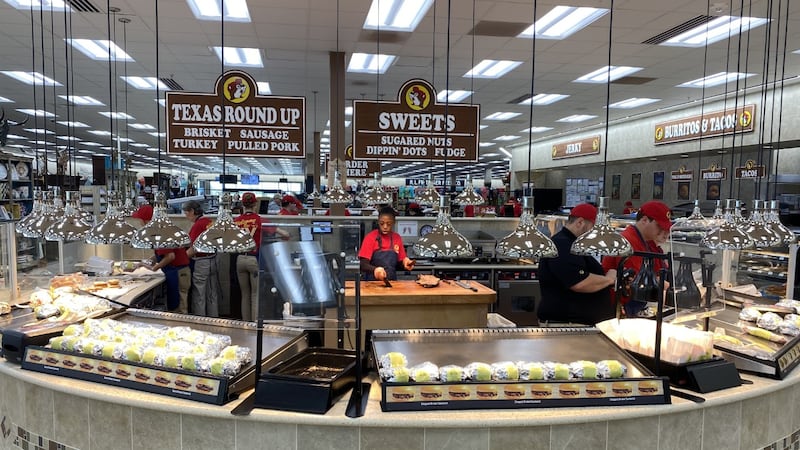 Published: Apr. 18, 2022 at 2:21 PM CDT
RICHMOND, Ky. (WKYT) - Buc-ee's has opened its newest location in Richmond.
The store opened at 6 a.m. Tuesday and a grand opening ceremony was held at 11 a.m.:
People showed up, and dressed up, for the occasion.
"She was telling me, 'Hey, there's this place called Buc-ee's.' So we went to the one down in Georgia. Now we've been to a few. It's a fun experience, so of course we came down here for the grand opening," said Griffin O'Leary.
There's fuel pumps, but don't call it a gas station. There's easy and quick shopping, but definitely don't call it a convenience store, either. So then what is this larger than life place that draws crowds of thousands?
"It really is an experience that I just can't describe to be honest," O'Leary said.
The smiling beaver welcomed visitors from as far away as Texas, Maryland, and Indiana. Virgil Martin traveled three hours before the sun was up to be at the Richmond Buc-ee's when the doors first opened at 6:00 a.m.
"We went traveling last year for a vacation, and we went through Texas. We saw Buc-ee's," said Martin, who traveled from Indiana.
With more than 100 pumps, from the outside, it looks like a large, but otherwise normal fuel station. But there are other reasons for the fanfare.
"What draws me in? It's just an experience to be honest," O'Leary said.
Richmond Mayor Robert Blythe has one way to describe it.
"There's a term a gentleman passed on to me. And the term is 'groupie.' There are those people who follow Buc-ee's," Mayor Blythe said.
And they eagerly followed the beaver all the way to the first Kentucky location in Richmond.
"This adds to what we have. This will bring into Richmond folks from the interstate. There are folks who are working here in management and so on who have literally moved into our community," Mayor Blythe said.
More than 200 jobs have been created.
Buc-ee's is now open 24/7. This is one of the three locations that will be opening in Kentucky.
Copyright 2022 WKYT. All rights reserved.