Mammoth Cave National Park releases plans for Black History Month
Daily ranger led events in February will highlight contributions African Americans have made to Mammoth Cave National Park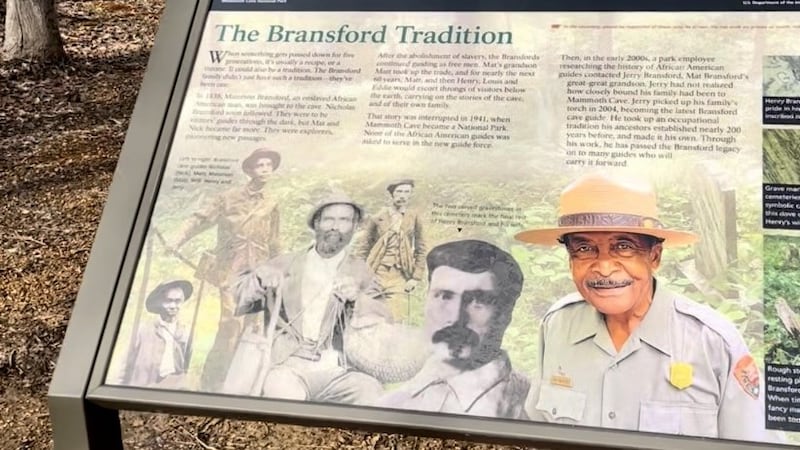 Published: Jan. 26, 2023 at 1:44 PM CST
MAMMOTH CAVE, Ky. (WBKO) - In honor of Black History Month, Mammoth Cave National Park will present ranger led talks, guided walks, two presentations at local libraries, and special videos and visual displays that focus on the legacy of African American history at Mammoth Cave throughout the month of February.
All events are free and open to the public with no reservations required.
According to a release, African-Americans greatly contributed to the tourism, exploration, mapping, and development of Mammoth Cave throughout its over 200-year modern history.
"As some of the earliest guides and explorers of the cave in the 1800s, enslaved African Americans guided visitors through the mysterious cave passages and helped to shape Mammoth Cave into a renowned tourist destination that hundreds of thousands of people continue to visit today," according to park officials.
Ranger-led Talks
Ranger led talks will take place daily at 10 a.m. and 2:30 p.m. with additional talks occurring on Saturday and Sundays at 9 a.m. and 1 p.m. at the park's visitor center.
Rangers will discuss the significant contributions African Americans have made to the cave and area tourism throughout Mammoth Cave's history.
Ranger-led Walks
A ranger led hike to the Bransford Cemetery will depart from the visitor center at 1 p.m. on Saturday, Feb. 18 and on Saturday, Feb. 25.
The two-hour hike will meet in front of the visitor center where participants will then move over to the trailhead to begin the program.
Visitors will be accompanied by a park ranger on a dirt and rock path through the forest about one quarter mile to reach the Bransford Cemetery.
Rangers will discuss the significant contributions African Americans have made throughout Mammoth Cave's guiding history and the history of the Bransford family.
This walk will be cancelled in the case of inclement weather.
Evening Presentations
Park rangers will present two evening programs outside of the park at two area libraries.
The first will be on Thursday, Feb. 9 at 6 p.m. at the Mary Wood Weldon Memorial Library on South Green Street in Glasgow. For more information on this presentation please contact the Mary Wood Weldon Library at 270-651-2824.
The second presentation will be held on Wednesday, Feb. 22 at 6 p.m. at the Warren County Main Library on State Street in Bowling Green. Please contact the Warren County Public Library at 270-781-4882 extension 4 for more information.
Visitor Center Displays
In addition to in person ranger led programs, Mammoth Cave will also display special posters containing biographies of black guides as well as videos featuring stories of the enslaved Mammoth Cave guides within the visitor center exhibit area throughout February.
The video clips are provided courtesy of Western Kentucky University's Public Broadcasting Service and Kentucky Educational Television.
For more information about Mammoth Cave National Park or other park events, please visit the park's special event website.
Copyright 2023 WBKO. All rights reserved.