Glasgow native, artist penned to create downtown mural benefiting nonprofits
Published: Feb. 1, 2023 at 4:30 PM CST
GLASGOW, Ky. (WBKO) - Downtown Glasgow is about to get a bit brighter yet again as another mural is in the works for the square.
"I mainly paint canvas, but I can't say no, the murals are fun," said Casey Page.
If you've seen a colorful mural around southcentral Kentucky, there's a good chance Page had something to do with it.
"I'm an oil painter, paint canvases, do gallery work. But more and more the murals are just really taking off. I'm not that afraid of heights," said Page.
Page has been penned to take on downtown Glasgow's third mural on the square which is his second for the town.
"It's a thank you for the community. It's kind of one of those bios for us pieces. You know, it's a townie piece," said Page.
The mural will be located diagonally from Fine Arts Bistro on West Main Street and will feature a bookshelf filled with books that are Glasgow and Barren County themed.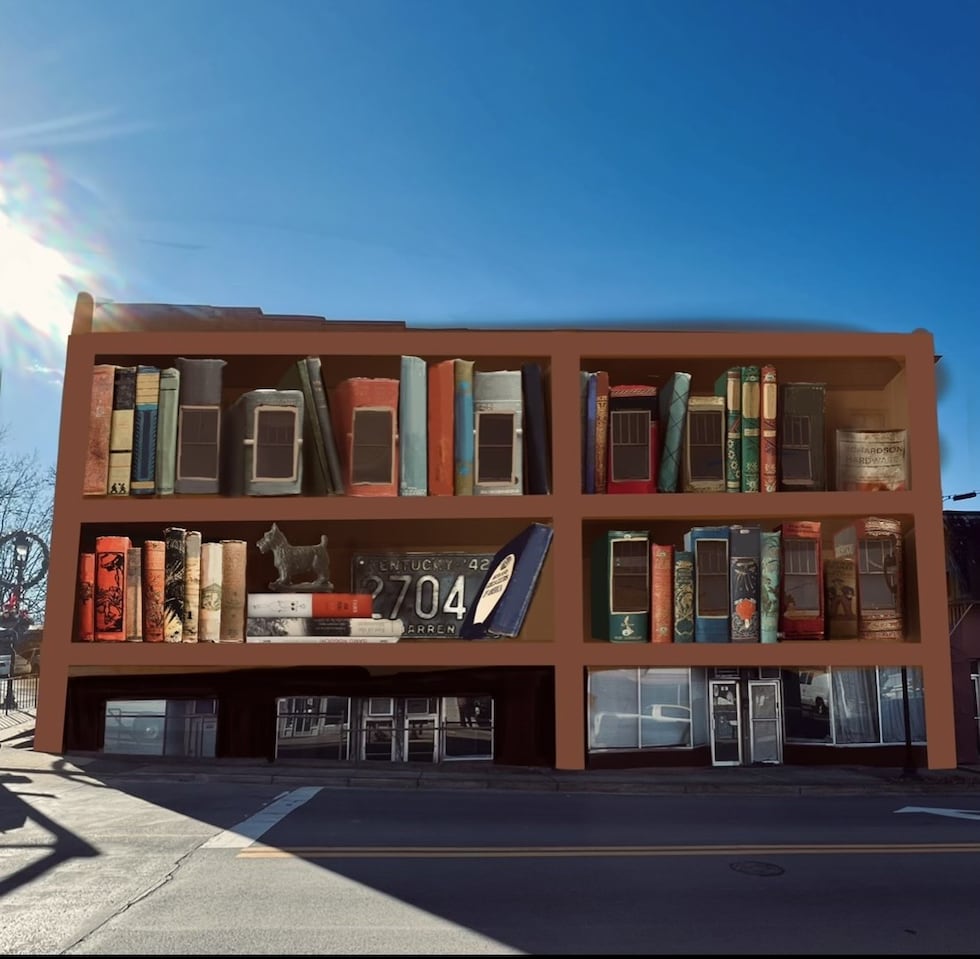 "That bookshelf is going to highlight local authors from Glasgow, Barren County. The book titles themselves will highlight different people who've kind of done great things in the community from the community," said Page, who designed the mural.
All of this is for several causes.
A private donor contributed the funds on behalf of the nonprofit Bridge Kentucky.
The mural will also benefit the Boys and Girls Club.
"On the spine of the book, people will be able to donate money to Bridge to get their name or business put on those books," said Wade Copas, Director of Bridge Kentucky.
The nonprofit opened in 2019 and helps individuals in Barren County who might be homeless or just need assistance to get into a better place. In the month of January of this year alone, Bridge Kentucky assisted individuals in Barren County totaling the amount of $5,000.
"We know how talented Casey is. So we thought it was just a no-brainer and his work is just a gift from Bridge to the community," said Copas.
Where now sits a dirty, abandoned building, Page will take his talents, and bring it some life and color.
"I think murals are great for the town. They liven things up. Glasgow ... they've been my biggest cheerleaders, you know. And of course, this is how I'll stay here. No matter what happens," said Page.
The mural will be complete in several months or less, weather permitting.
Page was recently hired to paint the Bat Mobile at the Corvette Museum which he will do this month.
Copyright 2023 WBKO. All rights reserved.