KSP welcomes largest cadet class since 2014
103 cadets to receive law enforcement training to serve and protect the Commonwealth of Kentucky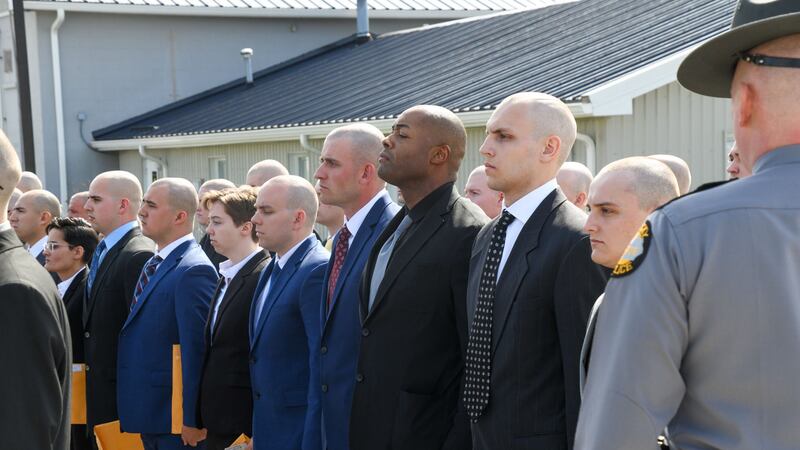 Published: Feb. 26, 2023 at 7:32 PM CST
FRANKFORT, Ky. (WBKO) - The Kentucky State Police (KSP) welcomed 103 new cadets who will begin their careers of service to the Commonwealth of Kentucky.
This group represents the largest cadet class since 2014. Cadet Class 103 consists of 94 men and women who are beginning their law enforcement careers, and nine officers from other law enforcement agencies participating in the KSP Law Enforcement Accelerated Program (LEAP).
"Wanting to wear the sacred badge of honor like those honorable troopers who came before you is a true testament to your desire to create a better, safer Kentucky," said Kentucky Governor Andy Beshear. "We wish you the best as you begin your training and thank you in advance for your service. Team Kentucky will be praying for you, supporting you and advocating for resources to keep you safe as you work to keep us safe."
Due to the recent $15,000 salary increase for KSP sworn personnel, sworn numbers for the agency have increased. KSP now employs 899 troopers, an increase of approximately 22% from 736 troopers in Nov. 2021.
Cadet classes include twenty-four weeks of basic training with more than 1,000 hours of classroom and field study. Officers joining KSP bring a minimum of two years of law enforcement experience and undergo an accelerated 13-week academy.
Captain Shawn Darby, Academy Commander of KSP, encouraged the cadets of Cadet Class 103 to give everything they have during this once-in-a-lifetime opportunity.
"Motivation is temporary. To successfully negotiate this academy, it will take discipline, grit, and a will to serve others before yourself," said Darby.
For the first time in the agency's history, Cadet Class 103 will receive training on the recently purchased integrated video recording system. They will be equipped with body-worn cameras upon graduation.
In January, KSP demonstrated the Motorola M500 Integrated System, which includes a V300 body-worn camera, audio recording device and in-car video with high-definition cameras, which will record a forward dash view and the rear passenger compartment of the patrol vehicle.
The mission of KSP is to promote public safety through service, integrity and professionalism.
Cadet Class 103 demographics:
Males: 98
Females: 5
African American: 3
American Indian or Alaskan Native: 1
Asian: 1
Caucasian: 96
Hispanic or Latino: 1
Two or more races: 5
Age range: 20 – 48
Cadets represent the following Kentucky counties: Ballard, Barren, Bath, Bell, Bourbon, Bullitt, Butler, Calloway, Campbell, Carter, Casey, Clay, Fayette, Fleming, Floyd, Franklin, Gallatin, Garrard, Graves, Green, Greenup, Hardin, Harlan, Hart, Henry, Hopkins, Hyden, Jackson, Jefferson, Jessamine, Johnson, Knott, Knox, Laurel, Letcher, Lincoln, Madison, Marshall, McCreary, Metcalfe, Nelson, Ohio, Oldham, Perry, Rockcastle, Rowan, Russell, Shelby, Taylor, Union, Warren, Wayne, Whitley
Cadets from out-of-state represent: Arizona, Illinois, Indiana, Ohio
To learn more about becoming a KSP trooper visit, www.JoinKSP.com.
Copyright 2023 WBKO. All rights reserved.