FAKH participates in Hunger Free Kentucky Day
Event included anti-hunger rally in Frankfort and stakeholder engagement meetings with elected officials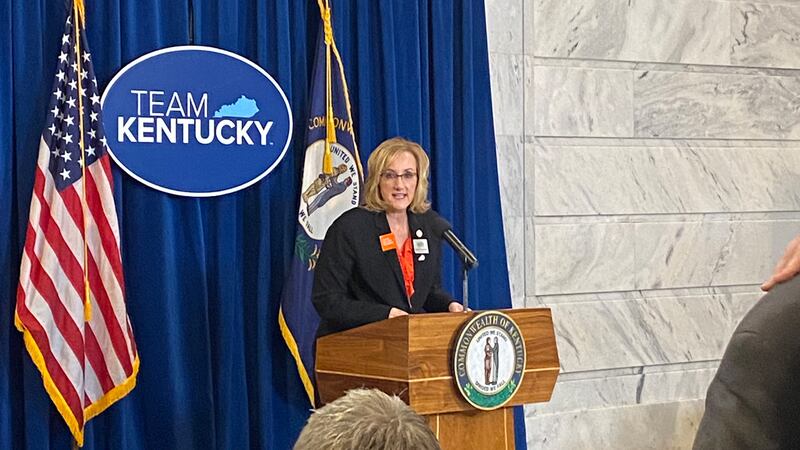 Published: Feb. 28, 2023 at 1:57 PM CST
FRANKFORT, Ky. (WBKO) - Personnel with Feeding America, Kentucky's Heartland (FAKH) visited Frankfort Tuesday to participate in Hunger Free Kentucky Day.
A day to raise awareness of food insecurity among Kentucky residents, the annual event includes a Rally to End Hunger at the Kentucky State Capitol, along with meetings among advocates and state legislators.
During the Rally to End Hunger at the Capitol Rotunda, attendees heard from several anti-hunger advocates and elected officials, including FAKH Executive Director and Feeding Kentucky Chair Jamie Sizemore, Kentucky Agriculture Commissioner Ryan Quarles, Lt. Governor Jacqueline Coleman, Rep. Richard Heath, University of Kentucky Ph.D candidate Alisha Borck, Berea Food Bank Executive Director Tony Crachiolo, Co-Director of God's Outreach Food Pantry Mandy Agee, Feeding Kentucky director Katrina Miller and Governor Andy Beshear, who signed a proclamation to mark the occasion.
"The fight against food insecurity in our region is fueled not only by our food distribution efforts, but also by our advocacy for a future without hunger," said Sizemore. "Hunger Free Kentucky Day offers those of us committed to ending hunger a chance to bring attention to the issues, and communicate directly with state leaders that the charitable food system can't combat hunger alone."
Following the rally, anti-hunger advocates met directly with legislators and elected officials to discuss the state of hunger in Kentucky.
Some of the most pressing priorities discussed included funding the Farms to Food Banks program in the 2024 budget, protecting safety net programs like SNAP in Kentucky and supporting universal school meals for Kentucky children.
Within the 42 counties FAKH serves, one in seven adults and one in six children are at risk of going hungry.
As a regional partner food bank of the Feeding America network, FAKH distributes over 18 million meals per year throughout central, south central, and western Kentucky to combat hunger.
These efforts are made possible through FAKH staff, volunteers and a network of 250 agency partners throughout the region.
"The mission of Feeding America, Kentucky's Heartland is made possible through an intricate network of dedicated volunteers who all support the common goal of ending hunger in our commonwealth," said Johnalma Barnett, who organizes food distribution events through FAKH partner agency Mt. Zion Baptist Church in Bowling Green. "Ensuring that these many stakeholders are all on the same page in regards to policy initiatives and legislation is critical in order to illustrate the importance of these issues. There is power in numbers."
In addition to Feeding America's work to fight hunger through food distribution programs, the organization also emphasizes advocacy among staff members, volunteers and supporters.
Legislative priorities include safeguarding and expanding Supplemental Nutrition Assistance Program (SNAP) benefits, strengthening child nutrition programs through Child Nutrition Reauthorization and protecting and strengthening key federal nutrition programs through the reauthorization of the Farm Bill.
According to the U.S. Department of Agriculture, 44 percent of Kentucky households receiving SNAP benefits have children.
According to Feeding America's annual Map the Meal Gap study, the food insecurity rate in FAKH's service area is 14 percent, with approximately 152,230 food insecure people in the region.
"Throughout Kentucky, there is a need for anti-hunger policies that bring about substantial and long-lasting improvements to the wellbeing of our communities," said Julia Springsteen, FAKH Board Chair. "Hunger Free Kentucky Day provides us with an opportunity to raise awareness of hunger in our state, advocate for policies that combat hunger and network with others who care deeply about this cause."
To learn more about ways to advocate for Feeding America's mission to end hunger across the nation, visit www.feedingamerica.org/take-action/advocate/campaign-to-end-hunger.
Copyright 2023 WBKO. All rights reserved.