GRAPHIC: LMPD releases bodycam footage of downtown Louisville shooting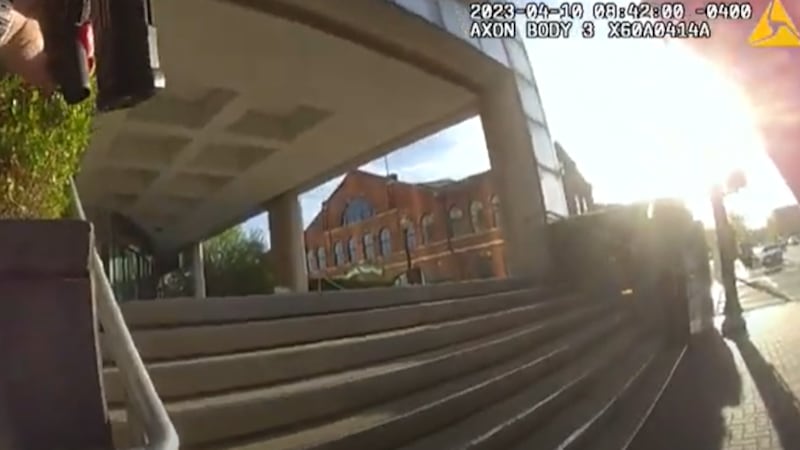 Published: Apr. 11, 2023 at 10:01 AM CDT
|
Updated: Apr. 11, 2023 at 5:24 PM CDT
LOUISVILLE, Ky. (WAVE) - On Tuesday, Louisville Metro Police Department released bodycam video from Monday's mass shooting at Old National Bank.
Videos were shared from two of the responding officers, Officer Nickolas Wilt and Officer Cory "CJ" Galloway, as they approached 333 East Main Street and came into contact with the shooter on Monday around 8:30 a.m.
The department said the shooter waited for officers to arrive before firing additional shots towards Wilt and Galloway.
(Story continues below video - viewer discretion advised)
Wilt was shot in the head in the crossfire, while Galloway sustained a minor injury that has since been treated.
UofL Health said Wilt was still listed in critical condition at University Hospital as of Tuesday afternoon.
In Tuesday's briefing, LMPD Deputy Chief Paul Humphrey said the two officers did exactly what they needed to do to handle the situation and prevent others from getting hurt.
"I think I would love to have either one of those officers ride with me any day," Humphrey said. "They did absolutely exactly what they needed to do to save lives. Once officers arrived on scene, not another person was shot. Not a single person received further injury once officers arrived on scene and that's what we're here for."
Louisville Mayor Craig Greenberg joined city officials on Tuesday morning to give further updates on the shooting.
LMPD Interim Chief Jacquelyn Gwinn-Villaroel said the shooter purchased the rifle used in Monday's shooting legally from a Louisville dealer on April 4.
Police later confirmed the weapon was an AR-15.
Greenberg addressed that under current Kentucky law, the weapon that was used in Monday's shooting would one day be auctioned back off to the public.
"Think about that, that murder weapon will be back on the streets one day under Kentucky's current law," Greenberg said.
Back in February, Greenberg worked with LMPD on a new policy to render guns inoperable and place warning labels on weapons before being surrendered to Kentucky State Police.
Police also confirmed a search warrant was executed on the shooter's home and items were recovered, but no details were given due to the ongoing investigation.
"We want to make sure we're providing accurate information," Gwinn-Villaroel said. "The family deserves that and Louisville deserves that."
Louisville Mass Shooting Previous Stories
Greenberg also announced a vigil would be hosted on Wednesday at the plaza of the Muhammad Ali Center at 5 p.m.
"This vigil will be to acknowledge the wounds, physical and emotional, that gun violence leaves behind," Greenberg said.
The vigil is an interfaith opportunity that will be open to the entire community, Greenberg said.
The Office of Safe and Family Neighborhoods is working to have grief counselors at 12 churches around the city Wednesday night for additional support.
Copyright 2023 WAVE. All rights reserved.