Woman comes face-to-face with bear peeking through her window
Published: Jun. 20, 2023 at 12:40 PM CDT
LEXINGTON, Ky. (WKYT/Gray News) - It was an unusual sight Tuesday morning in Lexington.
People who live in the Durbin Lane area of southern Fayette County, near the Kentucky River, reported seeing a bear.
Jane Harrod said her family has owned land in the area for as long as Kentucky has been Kentucky.
"There's a lot of history here," said Harrod. "This was an old place you could cross the river. The buffalo crossed."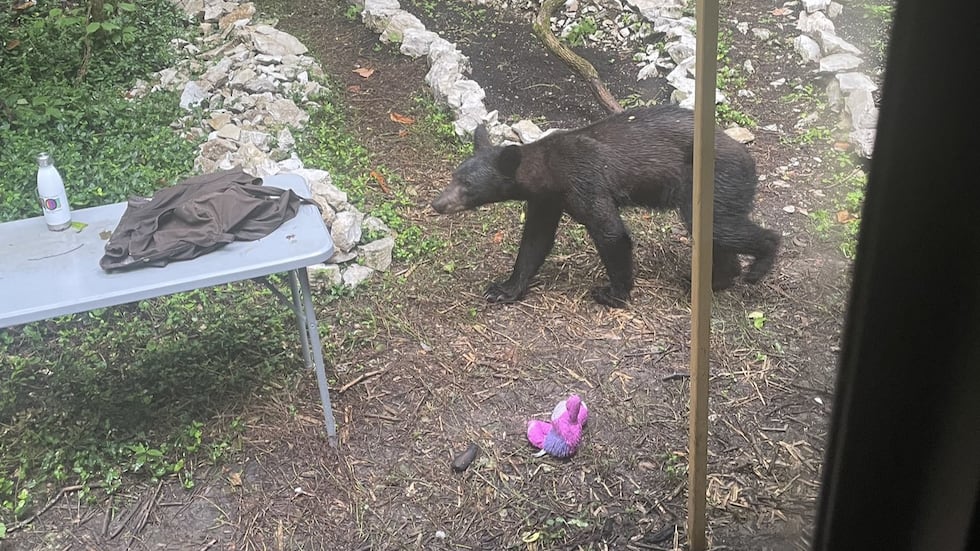 Her property is picturesquely perched in the hills above the Kentucky River, leaving the hustle and bustle of Lexington far behind.
Those large wildlife sightings have become scarce for Harrod - until now.
"The cats tipped me off. I reached out to pet one, and it dove under the bed," said Harrod.
When she got up and looked, a black bear was peeking in her window. Harrod said she scared it off, but it came back twice.
"I looked out again, and it's on the post next to the barn, standing up on the fence just peering at the window, like, 'Hmm, I wonder if I can try this again?'" said Harrod.
Kentucky Fish and Wildlife said that bear roaming is typical for young males at this time of year as they are out on their own for the first time and looking for a new home, even if that search brings them close to some very urban areas.
Harrod and her neighbors said they think this young bear could be one of the cubs that were spotted with its mother in this same area exactly one year ago. It also paid a visit to Cory Shenk.
"It looks like it was probably a year old, and maybe momma had said, 'Alright, you have to go off on your own.' So, I think they're possibly connected in that way, and I think it's kind of cool," said Harrod.
While the encounters were startling, they know this bear is just foraging. These neighbors encourage others in the area to just be smart with food and take precautions.
"I've gotten lax about throwing a tomato or a banana peel out on the ground to compost," said Harrod. "I won't be doing that anymore."
Fish and Wildlife officials said because this is normal behavior, they will leave bears like this alone unless they start to cause any trouble.
Copyright 2023 WKYT via Gray Media Group, Inc. All rights reserved.