McConnell addresses FEMA funding for Hawaii and KY infrastructure bill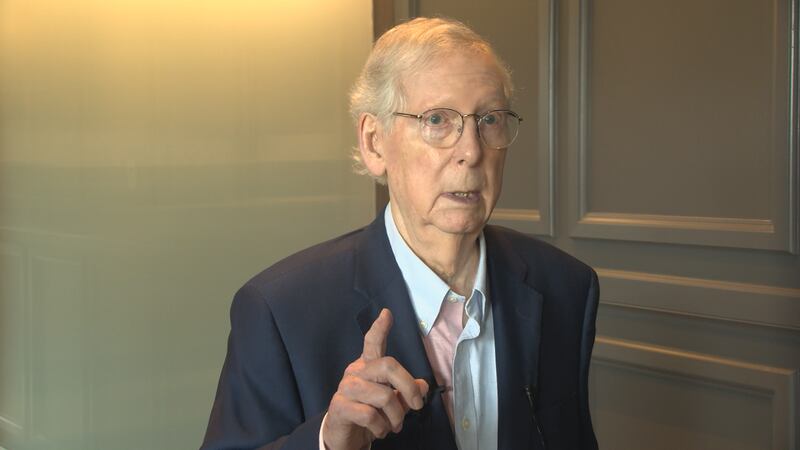 Published: Aug. 21, 2023 at 5:34 PM CDT
BOWLING GREEN, Ky. (WBKO) -In a brief press conference following an address to the Bluegrass Community Bankers Association, Senate Minority Leader Mitch McConnell offered remarks on additional FEMA funding that may be made available to those impacted by natural disasters and potential uses for a Kentucky infrastructure bill.
In addressing costly natural disasters, including the devastating wildfires in Hawaii and tropical storm Hilary in California, McConnell said that additional FEMA funding should be made available soon.
"There've been some serious natural disasters, the most obvious recent one is what happened to Hawaii," McConnell said. "So, in addition to approving a supplemental to help the Ukrainians continue to fight the Russians, we'll be authorized, in the same bill, in all likelihood, a considerable increase for FEMA."
McConnell also addressed an infrastructure bill in Kentucky. While he shared no plans for the bill's use in south-central Kentucky, he mentioned that a portion of the $6 billion bill went towards improvements to the Brent Spence Bridge in Covington.
"It already has allowed us to finally get started on the northern Kentucky Brent Spence Bridge, which is one of the most troubled bridges in the whole country, without paying tolls," McConnell said. "It's also available for water lines, infrastructure, just many different things that will benefit Kentucky."
Copyright 2023 WBKO. All rights reserved.