Dollywood earns five Golden Ticket Awards
Most-honored park wins theme park industry's top awards including #1 theme park in the world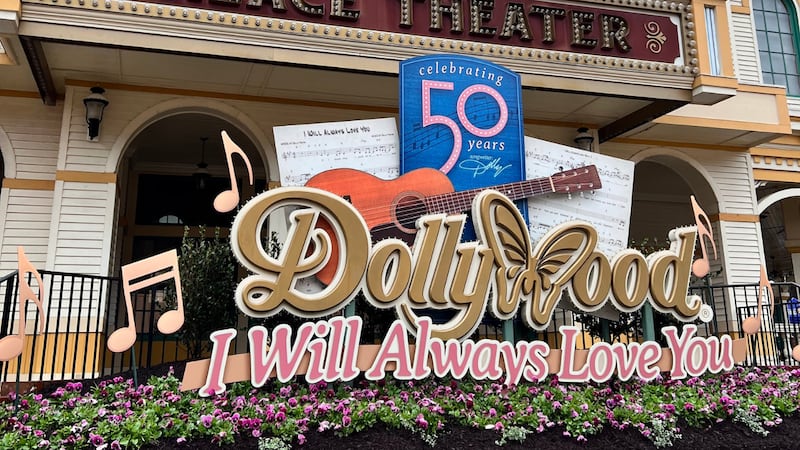 Published: Sep. 10, 2023 at 9:50 AM CDT
PIGEON FORGE, Tn. (WBKO) - Dollywood guests were surprised on Saturday evening as globally-known entertainment icon—and the Smokies' own—Dolly Parton arrived onstage in Showstreet Palace Theater during the 25th annual Golden Ticket Awards presented by Amusement Today. Not only did Parton receive her own award during the event, but her namesake park also earned a record five Golden Ticket Awards.
Parton, along with her business partners Jack and Peter Herschend, were honored with the Industry Legends Golden Ticket Award. It was the unique partnership between Parton and Herschend Family Entertainment that created Dollywood from the former Silver Dollar City Tennessee theme park in the mid-1980s. The park opened as Dollywood on May 3, 1986, and doubled its attendance in its first season of operation.
Dollywood received finalist placement in ten total categories and won more Golden Ticket awards than any other park in the world. The awards ceremony takes place at a different theme park each year, with Dollywood last hosting in 2012.
Dollywood took top honors at the Golden Ticket Awards by claiming the award for Best Park, an award held over the last eight years by Europa-Park in Rust, Germany. The impressive designation follows several years' worth of recognition of Dollywood's top status within the theme park industry. The Best Park award is significant because it continues to reinforce what Dollywood guests have been saying for some time; that the Pigeon Forge, Tennessee, park is considered one of the top family vacation destinations in the country and, perhaps now, the world.
Dollywood continued its clean sweep of the Best Guest Experience category, which was first created in 2019. This marks the fourth consecutive Best Guest Experience award for Dollywood. Golden Tickets were not awarded in 2020. The Best Guest Experience award combines several attributes—including friendliness, cleanliness, and value—into the judging criteria for the award. Dollywood is the only park to ever win the award, a nod to its friendly and welcoming hosts, as well as its clean appearance and overall atmosphere.
Dollywood's Wildwood Grove also earned its fourth consecutive award for Best Kids' Area. The park first won this award in 2019 after that season's opening of the expansive new area. Wildwood Grove cemented its status for the award this year thanks to the addition of the Big Bear Mountain roller coaster which opened this May. The new ride—manufactured by Vekoma—is nearly 4,000 ft. long and the longest roller coaster at Dollywood. With three launches, onboard audio, plenty of air time, and a number of thrilling moments, it has quickly become considered one of the best new coasters in the world.
With its new-found fame among Dollywood guests, Big Bear Mountain appropriately earned the newly-created Golden Ticket Award for Best Family Coaster. Guests who have experienced the new ride have applauded its unique attributes, impressive ride length and immersive theming. In voting for the category, Big Bear Mountain was essentially a shoo-in for the inaugural award.
One of the park's stalwart events, Smoky Mountain Christmas presented by Humana, earned its 15th consecutive win for Best Christmas Event. Dollywood remains undefeated in the Christmas category due to the effort of the park's hard-working hosts who plan for the iconic event year-round. Dollywood's Christmas festival is so prevalent that it has been showcased in several movies, including Hallmark's Christmas at Dollywood and last year's Dolly Parton's Mountain Magic Christmas which is now nominated for two Emmy awards.
"We're so proud to have the Golden Ticket Awards here at Dollywood this year," Dolly said. "This award ceremony is so very special and I think Dollywood is special too, so I think it's great we were able to host the event here. We don't do what we do to earn awards, but we're not going to turn them down either," she added with a laugh. "Seriously though, our teams work hard to make sure our guests enjoy their time at Dollywood, and these awards honoring what they do sure make me happy because they are getting the recognition they deserve.
"I think the Smoky Mountains are one of the most beautiful places in the whole world, so I hope more people will come visit Dollywood and the Smokies to see what makes this one of those places that I believe you can't match anywhere else!"
Due in large part to its idyllic location in the foothills of the Great Smoky Mountains, Dollywood earned the runner-up position for Most Beautiful Park, while the park's creative and talented culinary team took home a second-place finish for Best Food thanks to their varied and extensive menus of high-quality items. The park also finished third in the Best New Coaster category for Big Bear Mountain, and Dollywood's thrilling Thunderhead remained ranked in the Best Wooden Roller Coaster category, finishing as the fourth-best wooden coaster in the world. Big Bear Mountain earned a fifth-place finish in the award for Best New Attraction Installation.
Eugene Naughton, President of Dollywood Parks & Resorts, says the record number of awards, including the nod for Best Park in the World, truly shows why Dollywood has become the rising star of the theme park industry.
"I first have to thank Amusement Today and our staff for the effort that went into hosting this year's Golden Ticket Awards here at Dollywood," Naughton said. "These awards are helpful for us to understand where we rank in comparison to our peers because those with voting rights represent some of the most knowledgeable and experienced professionals and enthusiasts within the industry.
"We have spent a lot of effort the last several years focused on our guest and host experience. We want everyone who comes through our turnstiles to have an experience that provides them with happy memories for years to come. We've also been very thoughtful with the attractions, entertainment offerings, and culinary creations we provide to our guests every single day. I'm very happy to see the results of our hard work recognized by the Golden Ticket voters. But you know what all this means? We have to go back to work coming up with new ideas and innovations to continue pushing us forward. It is an exciting time in this industry and I want to see us remain at the forefront."
Tim Baldwin, Communications Coordinator for Amusement Today's Golden Ticket Awards, explained why Dollywood continues to rack up more wins than any other park in the world.
"It is a stellar year for Dollywood — its best performance yet," Baldwin said. "As a finalist in nine categories and taking a record five Golden Tickets, the park has accomplished something notably amazing. For them to unseat the long-time winner for Best Park has to be exciting for everyone involved there. Like its predecessor, Dollywood slowly climbed the ranks over the last ten years and has finally nudged itself up from the second-place position. The expansion of Wildwood Grove with the addition of Big Bear Mountain has paid off. The park knows its audience, and it continues to make forward-thinking decisions that guests love."
"Each time I enter the park, I am immersed in a sense of welcome," added Baldwin. "The food, the music, the rides, the atmosphere — there is a heart to it. You can tell it starts at the top. Just as Dolly likes to treat people with kindness and love, Dollywood exudes a sense of happiness. It makes you want to come back. This is why Dollywood has grown exponentially from a regional destination to a national one — and beyond."
Calculated from an international poll conducted by Amusement Today, the industry's leading trade publication, the Golden Ticket Awards are the results of a detailed survey sent to a database of hundreds of experienced and well-traveled amusement park fans, industry journalists and ride manufacturers around the world in balanced geographical regions. Voters are asked to rate the "best" in a number of categories such as best parks, roller coasters, water rides, food, and more. The pool of eligible voters changes every year to ensure the same votes are not cast each season.
The Golden Ticket Awards are the most sought-after awards in the business of amusements and attractions. The awards have become the subject of much discussion by park aficionados the world over and have garnered mentions in such notable media outlets as USA Today and the Chicago Tribune and by the late radio newsman Paul Harvey. The awards also were the topic of a one-hour Travel Channel documentary.
With two great festivals ahead this year, there's plenty of fun still to have during Dollywood's 2023 operating season. Dollywood's Harvest Festival presented by Humana featuring Great Pumpkin LumiNights presented by Covenant Health takes place Sept. 20- Oct. 30, while Dollywood's Smoky Mountain Christmas presented by Humana—now the 15-time winner of Best Christmas Event—is slated for Nov. 4- Jan. 6.
For more information about Dollywood, please visit dollywood.com or download the Dollywood App.
Copyright 2023 WBKO. All rights reserved.