WKU drops second straight game after falling 42-29 to Liberty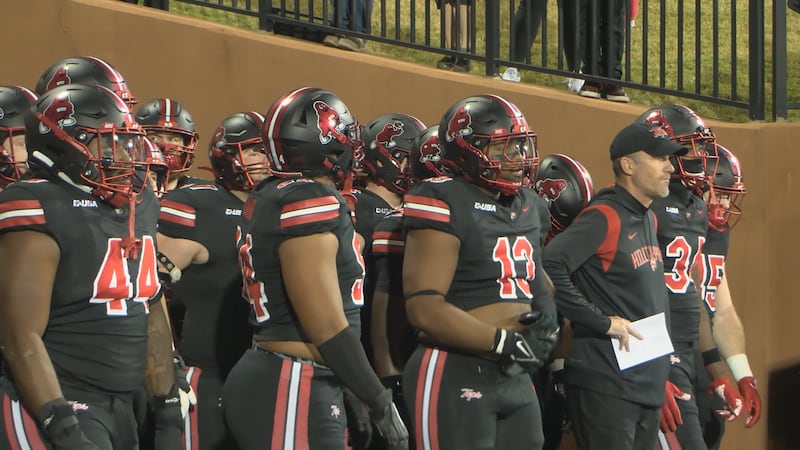 Published: Oct. 25, 2023 at 2:01 AM CDT
BOWLING GREEN, Ky. (WBKO) - WKU Football lost to Liberty 42-29 on Tuesday at Houchens-Smith Stadium.
The Hilltoppers fell to 4-4 overall and 2-2 in Conference USA play with the loss.
"That's a good football team. Liberty played about how I thought they would," WKU Head Coach Tyson Helton said. "They've done it all year. They controlled the ball. They've got a good offense. They did a really nice job."
WKU put up 484 yards of offense in the game, with 365 yards passing and 119 rushing. Austin Reed threw for 365 yards and four touchdowns on 30-of-44 passing. Dalvin Smith led the Hilltopper receivers with 79 yards on eight receptions, Malachi Corley had 62 yards and two touchdowns on six receptions, Elijah Young had 58 yards and a touchdown on four receptions, and River Helms had 76 yards and a touchdown on three catches. Young also rushed for 61 yards on eight attempts to lead the ground game.
"Probably a positive for us was, offensively, we kept battling, got some quick scores, good to see, but a little bit too late. We'll get a couple days off here. We've got four games left. Got everything in front of us. Still got a lot of opportunities to try to make this championship game. November is an important month as always, so we'll see how it goes."
WKU took the lead early with a 13-play, 75-yard scoring drive on the first possession of the game. The drive was capped off with a 2-yard touchdown pass from Reed to Corley.
Liberty (8-0 overall, 6-0 CUSA) tied the game with a 20-yard rush to make it 7-7 at the end of the first quarter. The Flames scored three unanswered touchdowns – a 47-yard touchdown pass in the second quarter, a 9-yard touchdown pass in the third, and a 2-yard rush early in the fourth – to pull ahead 28-10.
Reed threw a 43-yard touchdown pass to Young with 11:24 to play to make it 28-16, but Liberty responded with a 6-yard scoring rush with 8:40 to play, making the score 35-16.WKU had a quick strike with a 63-yard pass from Reed to Helms to cut the deficit to 35-22.
Liberty scored again with a 27-yard pass with 4:18 to play, and Corley caught a 21-yard touchdown pass from Reed with 2:13 to play to make the final score 42-29.
The Hilltoppers will next head to El Paso, Texas, for a game at UTEP on Saturday, Nov. 4. The game is scheduled to kick off at 8 p.m. CT and will be televised on ESPN+.
Copyright 2023 WBKO. All rights reserved.