South Carolina, Vandy set as UK's permanent baseball opponents beginning in 2025
SEC announces new 10-series scheduling model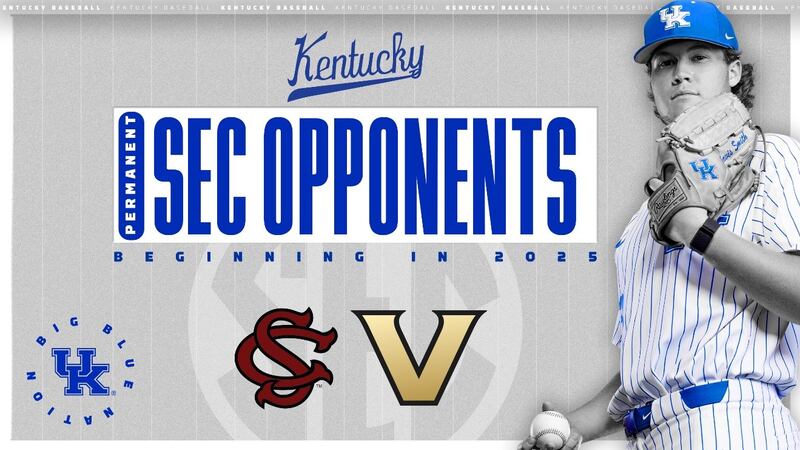 Published: Nov. 9, 2023 at 10:56 AM CST
LEXINGTON, Ky. (WKYT) - The SEC on Thursday announced that beginning in 2025, when Texas and Oklahoma enter the league, Kentucky baseball will face South Carolina and Vanderbilt each season.
Each SEC team will face two permanent opponents, along with eight rotating foes, for a total of 30 conference games.
The league also announced there will no longer be two divisions -- standings will be kept in a single-division format.
SEC Baseball Permanent Opponents
Alabama: Auburn, Tennessee
Arkansas: Ole Miss, Missouri
Auburn: Alabama, Georgia
Florida: Georgia, South Carolina
Georgia: Florida, Auburn
Kentucky: South Carolina, Vanderbilt
LSU: Mississippi State, Texas A&M
Ole Miss: Mississippi State, Arkansas
Mississippi State: Ole Miss, LSU
Missouri: Oklahoma, Arkansas
Oklahoma: Missouri, Texas
South Carolina: Kentucky, Florida
Tennessee: Vanderbilt, Alabama
Texas: Texas A&M, Oklahoma
Texas A&M: Texas, LSU
Vanderbilt: Tennessee, Kentucky
Copyright 2023 WKYT. All rights reserved.