WKU volleyball set for conference championship, after winning five-sets over (4) UTEP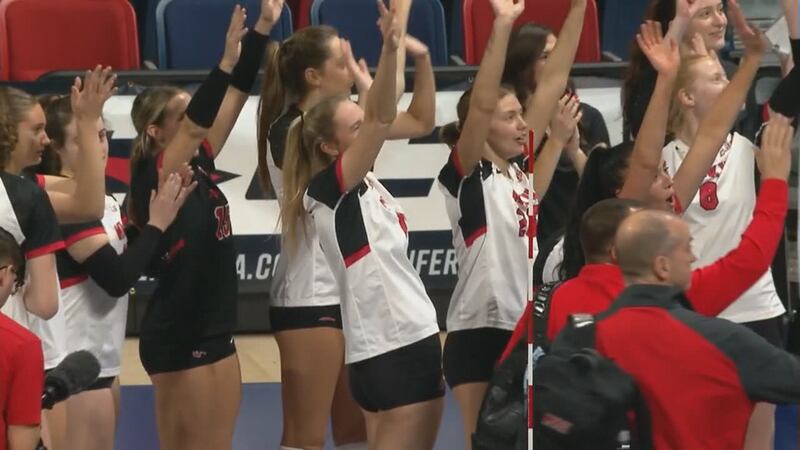 Published: Nov. 18, 2023 at 8:59 PM CST
BOWLING GREEN, Ky. (WBKO) -The first match in program history that went five sets between the Miners and Hilltoppers, the one-seed Tops blew out four-seed UTEP in the fifth-set to prevent a reverse sweep and head to the CUSA Championship match.
"You can't script the stuff that's happened to us", said head coach Travis Hudson. "Fate might not have it that we win the tournament this weekend, our kids don't know that, they keep fighting. This match was all about blocking and aces – we did miss a ton, but I refuse to let our team back off."
Capping on Travis Hudson's 750th career win, Paige Briggs (18), Kaylee Cox (14), and Kenadee Coyle (10) all hit double-digit kills with a team .205 hitting clip against the Miner front line. Briggs and Cox also carried out double-doubles with digs from the back row, as libero Abby Schaefer led the stat sheet with 17 receptions through five sets. On defense, Logan Grevengoed and Izzy Van De Wiele each stuffed 6 apiece – a new single-match career high for Van De Wiele.
WKU 3, UTEP 2: 25-23, 25-15, 21-25, 15-25, 15-5
Set 1
Back-to-back Hilltopper errors and an errant serve led WKU to drop 3-1 early in the set. The Tops would fight back, as the Miners picked up an attacking error after a Katie Howard serve to tie the frame up at five. Both teams rallied on the board, trading back-and-forth until a back row kill from UTEP's Torrance Lovesee would bring a three-point match in favor of the team in orange. Three kills off the hand of Kaylee Cox and a shot down the right line from Kenadee Coyle would bring the Red and White a 4-1 run and the set tied again. Both rallied on the board, bringing up six set ties until a 3-0 run featuring two Miner errors and a Cox kill would give the Tops the lead the rest of the way. Bouncing on a 4-1 scoring drive with Cox's seventh kill of the match, the Hilltoppers reached set point. A kill from UTEP's Sakira LaCourwould run the Miners to the very end at 23, before Paige Briggs notched a shot on the left to take set one.
Set 2
WKU ran right out of the gate with five points in a row off of blocks from Logan Grevengoed/Kaylee Cox and a kill off the right from Kenadee Coyle. Head coach Ben Wallis and the Miners drove through a 3-1 run to bring about a two-score set. Both the Tops and Miners would go on 3-0 drives before Paige Briggs extended the Topper lead with a kill and service ace for a 13-9 match. Both teams would rally on the board, until Grevengoed closed the door on a shot from the middle on a three-point drive to take a larger lead. More trading points on the board, the Tops rallied on six points straight featuring two Briggs kills, a shot from Izzy Van De Wiele, and two Callie Bauer service aces.
Set 3
UTEP took a 2-0 lead from a Hilltopper error and Miner kill for a lead that WKU could not catch up to. A 4-1 Miner run capped from two Tops errors drove a five-point match against the one-seed. Kaylee Cox kicked off a three-point drive for the Red and White, assisted from a Briggs/Grevengoed block and setter dump from Callie Bauer. The run was cut short by UTEP as they held the lead at 9-5. A 4-1 scoring takeover ended on a ball called out-of-bounds for the Miners landed WKU within one, but both teams eventually traded a pair of points until UTEP ran on three and widened the score. Not giving up more than three points in a run, both teams vollied on the court the rest of the way out, as WKU was still down by two. UTEP eventually grabbed the final pair of points, ending on a service ace, as the teams went into the fourth frame.
Set 4
A UTEP hitting error gave WKU the sideout and a chance to hold onto the lead. The Miners would take the next two points until outside Kaylee Cox hit a shot off the fingertips to tie the contest at two. The two conference opponents traded points as UTEP held a slight lead, until the team in orange jumped into a 6-0 run forcing head coach Travis Hudson to burn a timeout. Out of the break, WKU would jump on a point from Paige Briggs on the outside. UTEP and WKU rallied on the board – WKU still behind by six – as they garnered closer to UTEP from a Van De Wiele/Cox block and kill from Coyle. At the 18-13 mark for UTEP, the Miners jumped onto a 6-1 run forcing set point. Briggs would slow the UTEP momentum, getting a shot on the righthand side before a blocking error tied the match.
Set 5
After a quick Miner kill down the middle, the Tops held UTEP to a devitalizing -.143 hitting clip and a mere five points as Callie Bauer and the Tops pummeled through orange with a 9-0 run, ending on back-to-back kills off of Paige Briggs. UTEP cut the heavy scoring drive short as Alianza Darley picked up two kills from a 2-1 UTEP run. A back row Briggs kill kicked off four straight, following a Miner kill, additional Briggs point, and ace from Abby Schaefer. Back-to-back UTEP blocks were not enough as rightside hitter Kenadee Coyle took a shot to defenders' fingertips and took the final set and match.
Copyright 2023 WBKO. All rights reserved.