Bee Springs Post Office robbed at gunpoint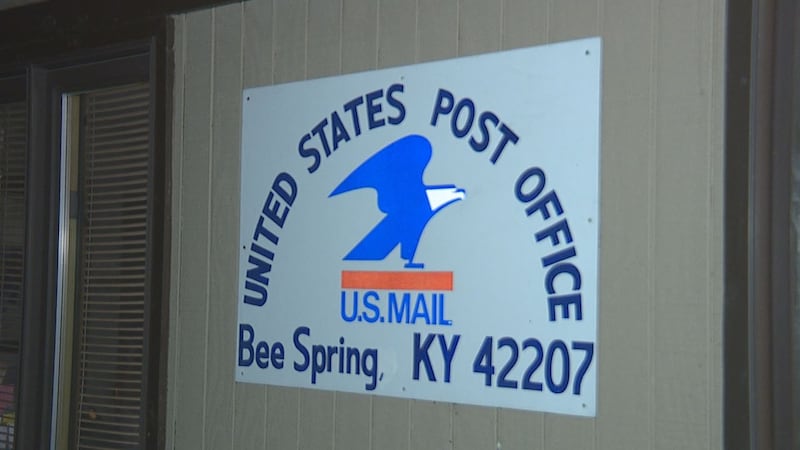 Published: Jan. 21, 2017 at 5:03 PM CST
The Bee Springs Post Office was robbed at gunpoint Saturday morning.
The Edmonson County Sheriff's Department says it happened around 9:30 Saturday morning.
The Department says the woman working was exiting a side door with a mail cart, when the suspect pointed a semi-automatic pistol at her, shoved her into a bathroom and told her to not come out or he will kill her.
The suspect did his homework.
"It seemed like he knew the layout of the building, knew where to stand and which door she was going to use at that time of the morning," Detective Wally Ritter said.
No cars were seen in the parking lot during the robbery, but some neighbors say they heard a car door slam around that time.
"Meaning that more than likely he was dropped off. We checked the surrounding woods, the surrounding area and there was no sign of anybody staking out the place," Ritter said.
The suspect got away with $2,000 worth of stuff.
"Assortment of cash, some quarters, a handful of money orders, and a book of stamps," Ritter added.
The sheriff's department is asking people who live in the area to be vigilant.
"By all means call, if you see any suspicious behavior. Furthermore, from anybody, maybe somebody casing other businesses," Ritter said.
The suspect is described as a white male in his late 20's, with short brown hair. He stands about 6'0 tall and weighs about 200 pounds.
As of Sunday, detectives say they do have a few minor leads in the case, but hope DNA evidence they collected will lead them to the suspect.
The Sheriff's Department was looking for a burgundy vehicle that could have been connected to the crime, but they have ruled out that suspect.
A U.S. Postal Inspector is assisting in the investigation. The sheriff's department says there could possibly be federal charges.
Anyone with information is asked to call The Edmonson County Sheriff's Department at 270-597-2729.