Day 2 of Rand Paul v. Rene Boucher trial, Boucher apologizes from the witness stand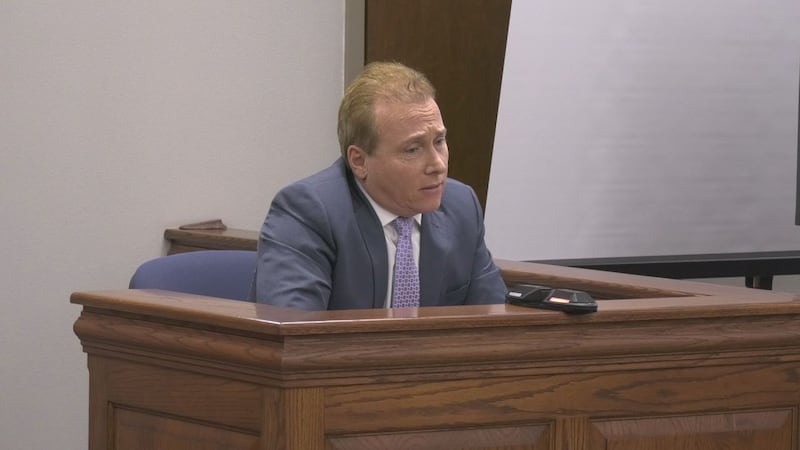 Published: Jan. 29, 2019 at 8:20 PM CST
In our continuing coverage, Tuesday marked day two of the trial of Rand Paul vs. Rene Boucher.
A radiologist at Graves Gilbert clinic, Dr. Sean Willgruber, was the first to take the witness stand. He testified about his interaction with Senator Paul, which he says was limited to helping Paul get on and off the x-ray table.
"It probably took three to four times the amount of time it would take myself or anyone normally walking into the room to get on the table," said Dr. Willgruber.
Afterwards, a video deposition by congressional physician, Dr. Brian Monahan was played for the jury. Dr. Monahan said he saw Senator Paul a number of times after the attack. Dr. Monahan did say he believed Sen. Paul's recent hernia was a result of the 2017 attack.
Matt Baker, Boucher's attorney, asked several times if Paul's activities such as skiing and golfing over the year could have also caused it.
"Based on reasonable medical probability, could his hernia be related to any of those other things that I just mentioned to you?" asked Baker.
Dr. Monahan responded, "Possibly."
​Several of the Paul's friends who live in his neighborhood also testified on Sen. Paul's behalf.
In the later half of the day Tuesday, Rene Boucher was called to testify. From the witness stand he made several apologies directed toward the Paul's.
"I was not thinking rationally. What I did was wrong, and I'm sorry I did it," said Boucher.
An apology that Paul's lawyer indicated was not sincere considering the counter lawsuit Boucher has filed against both Rand and Kelley Paul.
Boucher expressed that seeing Senator Paul continue the brush piles the day of November 3, 2017 is what set him off.
"He has a large pile of branches and sticks that have been next to a dead tree, and he was taking them from that pile and then bringing them over to the property line -- once again for the fourth time," said Boucher.
From the stand, a visibly distraught defendant, admitted his fault in the matter.
"I did this. No reason for me to make up a story," said Boucher. "My left shoulder hit his ribs and broke his ribs. For that, I'm very sorry."
Boucher described the attack as the biggest mistake of his life.
"It was an irrational thing I did and two minutes of my life I wish I could take back," said Boucher.
A mistake that Boucher says he believes he has paid for at 28 days at a Chicago federal prison.
"It was scary, and horrible might be another description. I was in with the Chicago gangs," said Boucher. "For the rest of my life, I'm a convicted felon"
Senator Paul's wife, Kelley Paul, was the final witness to take the stand today.
"He couldn't take a breath without pain, he couldn't move without pain, he couldn't lie down really." The Senator's wife getting tearful on the stand as she recounted the last year since the attack. "So it was really, really painful to see somebody that you love go through that kind of agony physical agony," she said.
This case in circuit court will resume Wednesday at 1:00 p.m. Special Judge Tyler Gill says if they need to, they'll also meet Friday to wrap up the case.
Meanwhile, federal prosecutors are in the process of trying to get Boucher to serve a 21-month sentence in federal prison, saying his 30-day sentence was unreasonable.