Mystery man takes off shoes at Chick-fil-A and hands them over to man in need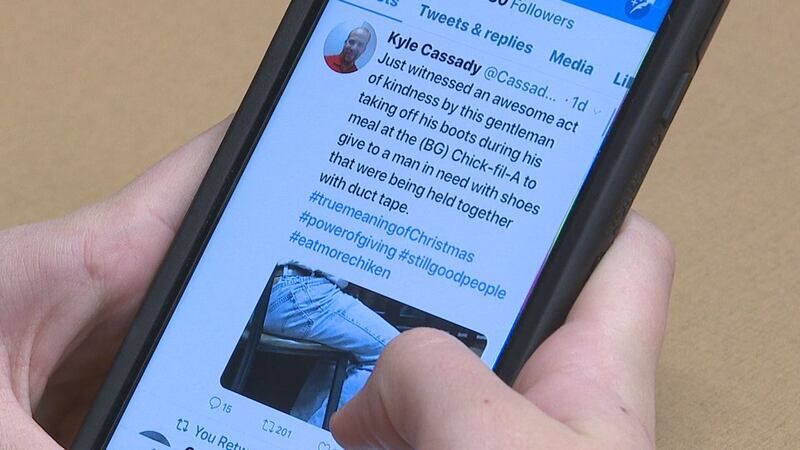 Published: Dec. 13, 2017 at 9:28 PM CST
After a 13-year old snapped a picture of a random man committing an act of kindness, the response from that photo is buzzing on social media.
The Cassady family eats at Chick-fil-A at least once a week. On Monday, Hallie Cassady noticed a certain man.
"His shoes were being held together with duct tape," said Hallie.
A good Samaritan seemed to have noticed him too.
"He was about to go back out the door, and the guy just looked at him in the eyes, and he took off his boots and handed them to him," explained Hallie.
This selfless act going farther than the man probably even knows or imagined.
"You could tell it made the other guy's day and it made my day."
The "twitter-sphere" has especially been buzzing.
"So, I grabbed his (her dad's) phone and immediately took a picture of the man. I told dad, 'we gotta share this. This is an amazing story to let people know, and it's sorta going a little viral here in Bowling Green."
Hallie's father, Kyle tweeted that picture, now at over 800 likes and 200 retweets, and climbing.
"As a parent you always want good examples and role models for your kids," said Kyle.
Hallie said the man continued to eat his meal with his socks on, walking out into the cold barefoot.
"There really is still good people in this world if we just look for it. It was just so kind of the man to do it," explained Hallie.
A weekly family dinner tradition with a lesson from a stranger.
"The irony behind all this is the values and beliefs of the Chick-fil-A corporation, and this act of kindness taking place here in this store in Bowling Green, Kentucky, she go to see something that you don't see everyday," said Kyle.
Just as Hallie was inspired, she's hoping that getting the word out about this story will inspire us all, not only during the Christmas season, but year-round.
Chick-fil-A​ says they usually do what they can to help out those in need. They often will give free meals to the less fortunate in our area at no cost.