Pryor and Hardy families speak after Drew Hardy's appeal request is denied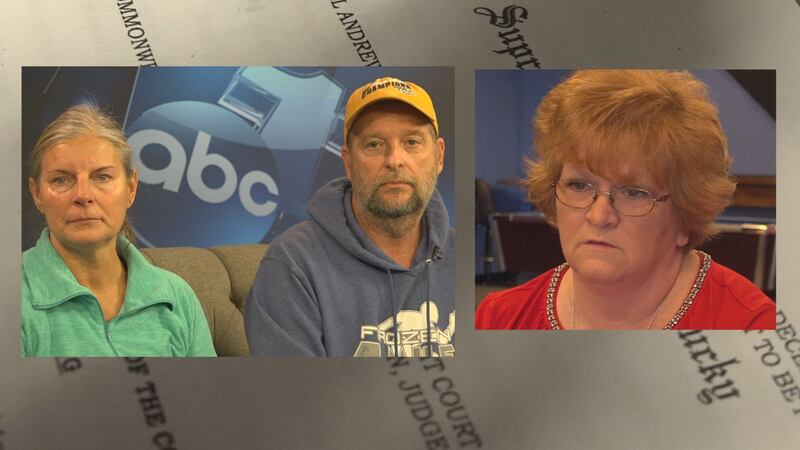 Published: Dec. 18, 2017 at 8:17 PM CST
In 2014, Jeremy Pryor was killed in a drunk driving accident. The man convicted of his death, Michael "Drew" Hardy, was sentenced to 20 years in prison. After that, the Hardy family started the process of requesting an appeal.
The Supreme Court of Kentucky recently denied that request. 13 News reporter Darby Beane spoke with both the families on Monday to get their reaction to the court's decision.
"Jeremy was funny, he was loving, he loved music, he loved people -- most of the time, everybody thinks their child is perfect, but Jeremy was my soulmate," says Johnetta Pryor, Jeremy's mother.
Johnetta has filled her pub with pictures of her son, letters he wrote to her, and things that remind her of his band.
"It's hard dealing with death, especially when it's your son," she says.
Johnetta adds, "I'm just trying to keep myself occupied so I don't go insane."
Last year, Drew Hardy was found guilty of wanton murder, criminal mischief, DUI, and three counts of wanton endangerment in the death of Jeremy Pryor.
"He was just a good kid who made a tragic mistake," says Drew's dad, Mike Hardy.
He describes his initial reaction to his son's conviction.
"I think we were all in shock. The family just is brokenhearted. And it hurts even worse, like I said, after seeing other people get off for a whole lot less for the same thing. Even guys who have had multiple DUIs, been in trouble before, our son would never hurt anybody intentionally," says Mike and his wife, Pam.
Johnetta Pryor says, "I feel like Drew getting 20 years in mild compared to what happened to Jeremy."
Drew is still at the Warren County Regional Jail where his parents try to visit twice a week. His mom tells us they talk through a glass window over the phone.
According to Drew's parents, say they don't know when he'll be moved to a prison.
"He did tell me though just yesterday that his first goal is that when he gets moved is to go to the library and get law books, because he's a smart kid, very smart, and he is going to learn the law and find out what happened to him," adds Mike Hardy.
Now that his request for an appeal has been denied, the Hardy's say they're searching for other options. The Hardy's say, "This just happened [the appeal being denied]. We're going to research and see what else is available. We won't quit."
Johnetta says she's fighting for her son, Jeremy.
"They can appeal all they want to, they have the right to appeal, but the facts speak for themselves. They were right there, the jury found him [Hardy] guilty," she says.
She goes on to say, This boy [Hardy] is guilty, he deserves to be in jail, he should stay in jail, and I will be there in 17 years when the parole board says, 'Well, this is Drew's day', I'm going to be standing right there making sure he spends his 20 years."
"He needs to spend every minute in jail thinking about what he's done," Johnetta adds.
The Hardy family says their son made a terrible mistake that night in November 2014, but they believe his punishment and 20 year sentence is too harsh.
According to the family, Drew was at a friend's house before getting behind the wheel the night of the wreck, when he hit Jeremy Pryor's vehicle.
"There's something that happened at that house that night that, no one knows what happened. And we'll never know, and they had to keep themselves out of trouble, and I just feel like even with that happening, someone dropping him off, that should've knocked it down to second degree manslaughter, period," says Mike.
Mike continues, says Drew was "going through a hard time in his life, and we failed to notice that until it was too late."
Johnetta Pryor says she thinks about Jeremy every day, saying, "I wake up every morning crying, I go to bed every night crying, I'm stopped on the side of the road and I'm crying, there's nothing I can do about it."
She continues, saying, "Do I need to be a better person and say I forgive the Hardy's? I don't have any feelings toward the Hardy's -- bad, good, nothing -- it's just empty. They've got to deal with their own demons. It's not my job to make them feel better. It's not my job, or my family's job, to take something that they've done, or something their child has done and say, 'Well, we forgive you, it's okay now.' That's been the hardest part about the whole thing, just not knowing why they can't accept it and let him serve his sentence and move on," says Johnetta.
Mike Hardy says his message to other parents is this: "I would say keep an eye on your kids, hug them, and tell them you love them."
Mark Hall, an attorney who represented Drew Hardy during his trial, and assisted in the appeal request, says this was one of the "more unfortunate situations that I've ever been involved in because it was very sad. No one won this case."
Again, the Supreme Court of Kentucky has denied the appeal request.