Veteran Glasgow baseball coach Sam Royse is honored with field dedication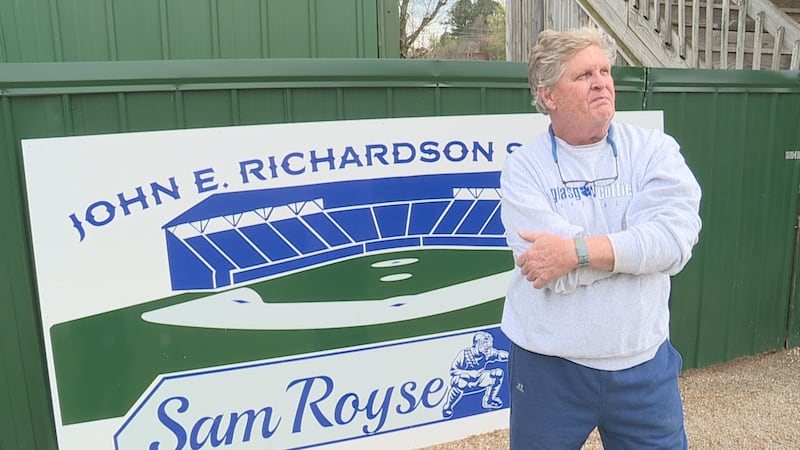 Published: Apr. 25, 2018 at 7:39 PM CDT
He's dedicated 36 years to the Glasgow baseball program, 34 of them as head coach.
For his dedication, legendary coach Sam Royse will no longer coach at Richardson Field. From now on, he will coach at Richardson Stadium. Sam Royse Field.
"It's not something that I ever set out to have happened, obviously," Royse said about the honor. "It's not something that I truly feel that I'm worthy of, but yet I am thankful that somebody saw fit to do so."
Coach Royse is not a person you will have to question if he loves Glasgow or not.
His father, the late Hank Royse, was a radio broadcaster for the Scotties for more than three decades and he was honored with the schools' football stadium being named in his honor.
As for Sam, he was a 1977 graduate of GHS, shining as a catcher and was able to play collegiately at Lurleen B. Wallace Community College in Alabama and then Troy University.
After graduating from college, he returned home in 1982, and that's where he's been ever since.
"He's the greatest coach that I've ever played under," senior Drake Poland said about his coach. "He's taught me a lot about the sport and mainly about life in general.
"I just think it's a blessing for him. He deserves every bit of it."
With close to 750 career wins, three regional championships, multiple district titles, two state final four appearances and now a field named in his honor, Royse assures everyone that he's only just getting started.
"It will not be until that time that I'm not able to serve the young men the way that I feel like they deserve to be served that I'm going to contemplate getting out of coaching," Royse said.